❦ First Published on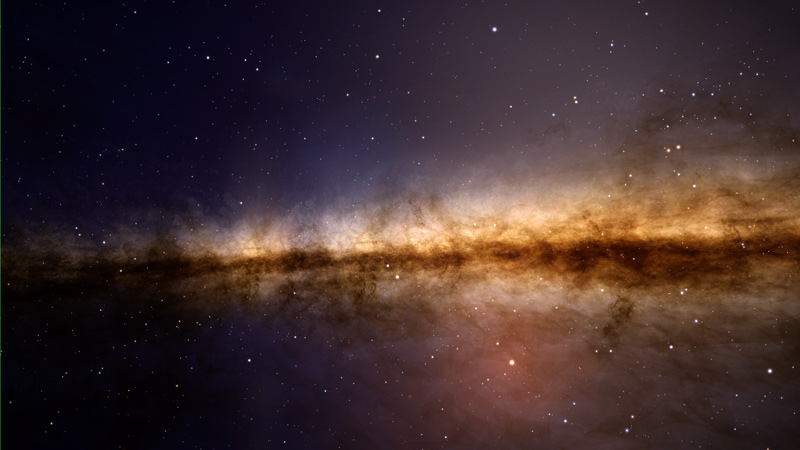 Looking into a side of the Milky Way from the Asellus system in Elite: Dangerous. The glowing red star is Asellus Primus B, 0.16 light years away.
Thunder ends the hyperspace jump and we are now in a different here in a different now with glowing orb of fire filling our view. Hazard proximity sensors are going off and we maneuver away toward points of light in the darkness of space — some very bright, others invisible if not for the navigation overlays which indicate the orbits and positions of celestial bodies in this system. We are in Super Cruise mode, a sort of crawling speed setting in the space travel throttle and the ideal way to fly around the local solar system with red and blue-shifting star and dust trails all around.
As we gather speed away from the ball of plasma the blackness of space begins to fade away, gradually revealing the number of other stars there and then. The heavens begin to change colour, blues and violets of interstellar clouds of dust, nebulae illuminating the glinting night, a long section of which is bright as an Earth day. The middle of this bright river of light is the center of our own Milky Way galaxy, another point of which we have reached.
Second burst of thunder and we are now out of Super Cruise in local time where Newton's maths of motion rule our ballet. Thrusters up, throttle forward, flight assist off, push stick forward slowly, then release. The distant jewels now spin slowly around us in the infinity of the universe. Black sphere with half-circle sliver of light perpendicular to thin illuminated ring of giant dust rises from the horizon of our lower dashboard, followed by a crescent moon, and then a cuboctahedron — a Coriolis station.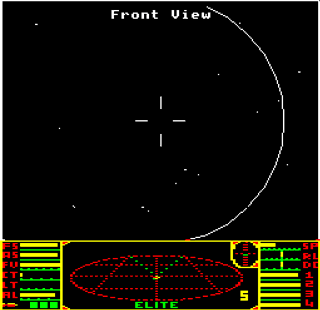 Shortly after leaving a space station in the original Elite from 1984 running on a BBC Micro emulator.
Approaching, we feel the size of the station. As towers and other appendages of this spinning city in space fly by our ship we hear the moan of a massive structure. As in film, sound and music help form the whole of our flying experience. Staccato popping-and-buzzing of directional thrusters, twanging sounds of a 1970's cross-between-VW-bus-and-space-shuttle Hauler ship engine, heaving heavy machinery opening cargo bay or landing gear doors; utter silence followed by crunching of ice crystals forming around cockpit glass panes when switching off systems to reduce heat signature and disappear from sensors. Elite's orchestra puts us here inside a ship flying in space, our hands and feet on the controls, cockpit's metal frames moving with inertia casting dancing shadows in pools of colored light from stars, planets, stations, our own and other ships, their engines glinting, tracing a disappearing line in the immensity of the cosmos.
We align ourselves with the the entrance and match the Coriolis' rotation. Now the stars are moving and we, along with the station, are still.
We have come far in 30 years. We push the throttle forward.
Prior entry: Picnic CSS
Next entry: Roman Vishniac Humanist, Photographer