__|__
      -------O-------
          o´   `o
            
❦
I am slowly building a new custom personal computer to be kept on a desk. It will be used for exploring video games while streaming word and game play to the digital jungle from my outpost on the edge of city.
My goal is for it to be small, relatively quiet, yet powerful.
To advertise the machine's existence to people interested in building their own, increase its ranking in web search algorithms, and distinguish it from other devices, I have decided to name this PC Condensed Anthem Lazer Power: Frostblade NeWT.
I have some1 of the parts listed below from my existing Zotac ZBOX EN-1060 system (not available for purchase any longer, but similar to this). The rest have been ordered from our Capitalist-Socialist-Communist Cloud, and I will be updating this post to chronicle their arrival as well as the "build process" with brief reviews of each piece here.
So keep your cursor on that browser refresh icon and your fingers on F5 or Cmd-R keys. This is the first personal computer I build in a long time, so best prepare for curses and chaos. The first review is of my current mouse.
Table of Contents
Mouse
The hand-held rodent I currently drag across my desk to move the cursor on the screen is an HP Silver/Carbon USB Wired Optical 3 Button Scroll Wheel Mouse that looks like it was used to practice hammer throws by somebody qualifying for the Olympics.
I can picture this person holding onto the USB connection end of the cable and swinging the mouse round and round while spinning their bulk faster and faster, then finally releasing it and yelling at the top of their lungs while jumping up and down and pumping their clenched fists.
The pointing device wouldn't have gone far, however, as it is actually quite small and light, and has been working fine for the 4 years that I have been using it after finding the thing in a box on tables with free stuff at Columbia University's campus, where a nice person kept repeating "Free books, free books! All things! Feel free to browse, feel free to browse! Lets keep knowledge out of the garbage!"
Eventually I do want to replace my Silver/Carbon HP, probably with a SteelSeries Sensei Laser Gaming mouse that a friend recommended, so I can feel even closer to a digital master swordsman.
---
Monitor screen, speakers, headset, memory, hard disks, keyboard, and mouse. ↩︎

           __|__
      -------O-------
          o´   `o
            
Wednesday, 1 July 2020
Tuesday, 30 June 2020
Sunday, 28 June 2020
Friday, 26 June 2020
Thursday, 25 June 2020

           __|__
      -------O-------
          o´   `o
            
❦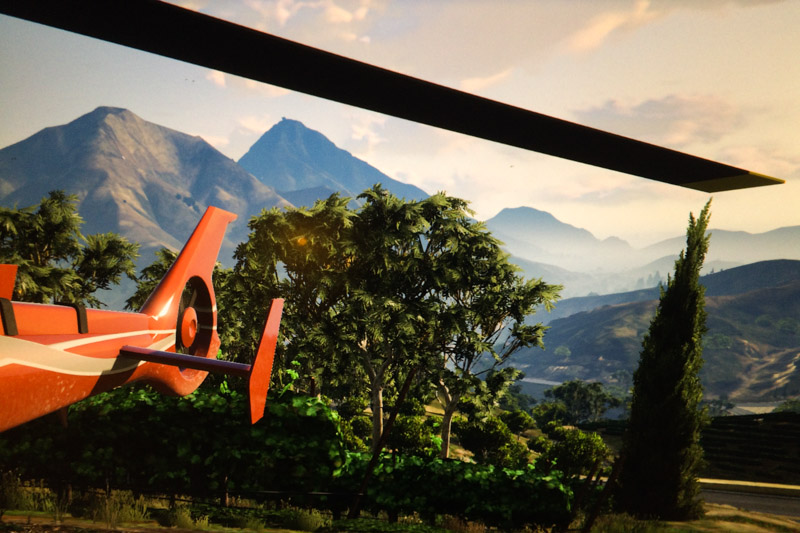 Feeling a zooming room gloom lately? Nodding off regularly when faced with all the little boxes with people on your screen?
How about meeting in a video game where you can drive like a lunatic and make things explode without hurting anyone instead?
Get Grand Theft Auto 5 and have your friends with your same system who want to play together do the same. Then start a friends-only session so that only your friends can cause a digital riot in Los Santos together with you. Like this:
Start the game and choose Play Grand Theft Auto V so you begin in Story Mode.
Once you are in Story Mode, press Esc to open the Pause Menu.
Navigate to the Online tab and select Play GTA Online, then Closed Friend Session, and Ok.
Look out of your window, draw, or do some exercise, for it can take a while for GTA Online to load, and time is to be savored, especially in times of pestilence-induced isolation. You will eventually find yourself in a game instance, also known as a "lobby", accessible to you and your Rockstar Social Club friends only.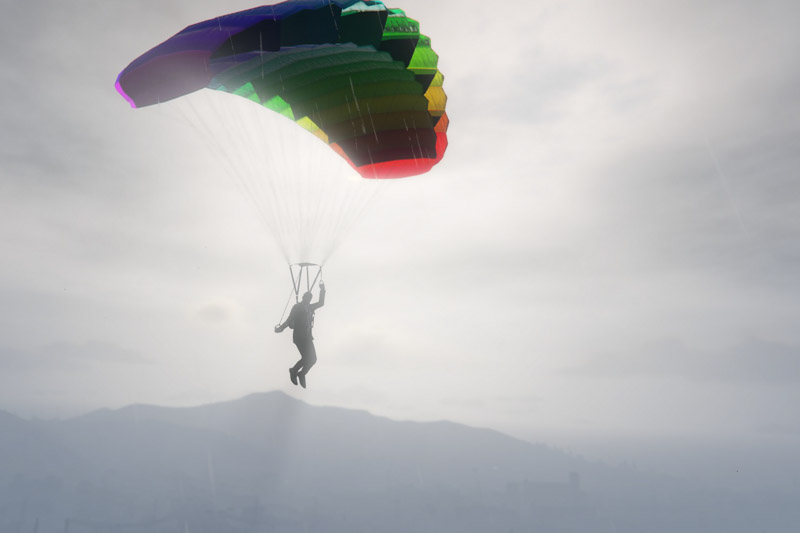 Now ask your friends for their Rockstar Social Club usernames and:
Press the Home key on your keyboard (if you don't have a full-size keyboard with a Home key, navigate to Social Club through the pause menu by pressing Esc and Caps Lock).
Select the Social tab on the top, then click on Find Player on the left-hand menu, type in the username of your friend and click on the loupe icon or press Enter.
Click on the sillhouette-with-a-plus+sign icon to send a friend request.
Tell your friends they can accept your request by following the steps above and clicking on Accept when they see the request. They can then meet you in the game by pressing Esc, navigating to the Online tab and clicking Join Friends.
Also tell your intimate associates they need to complete a tutorial mission or two that introduces their avatar to the game before you can play together, which take around 30 minutes. Hopefully you will see them again, and maybe Rockstar Games will one day consider adding a Skip Tutorial option to GTA Online.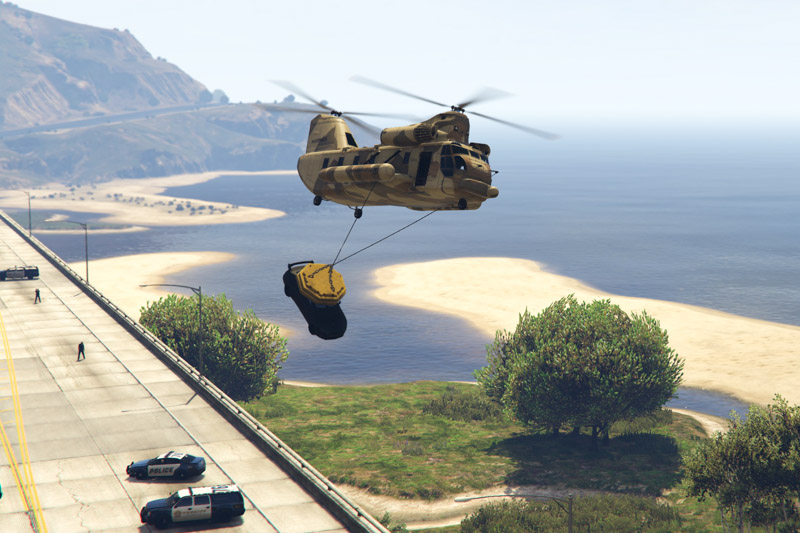 Here are a few of the keyboard controls (and you can use a gamepad, too):
Pause is Esc. Use it to open the map and access game options.
Forward or Throttle Up is W
Back or Throttle Down is S
Left or Yaw Left is A
Right or Yaw Right is D
Sprinting is Shift
Jump, Climb Obstacle, Handbrake or Dodge is Spacebar
Take Cover and GED DOWHN is Q
Roll Left is Num 4
Roll Right is Num 6
Pitch Forward is Num 8
Pitch Back is Num 5
Aim is right digital rodent button
Shoot is left cutie rodent button
Weapon Select wheel is Tab
Grenade/Sticky Bomb is G
Reload or Light Melee Attack is R
Radio Station Select wheel or Heavy Melee Attack is Q
Toggle Weapon Accessory is E
Drop Ammo, Weapon is F9, F10
Phone is middle-mouse button or Up Arrow ↑
Change View is V
Look Behind is C
Get in Vehicle is F
Interaction Menu is M, to access GPS, inventory, style, special ability, etc.
Radar Zoom & Multiplayer Info is Z
Push to Talk in voice chat is N
Text Chat to Everyone is T (type and press Enter)
Text Chat to Team is Y
Point At is B
Special Ability is Caps Lock
Horn is E
Lights is H
You can set up Discord to chat while playing instead of using the in-game voice chat, if you prefer.
Leaping automobile stunts and derbies of destruction await you, and you can also simply chill out in the wonderfully-realized world of this video game which I've previously referred to as:
A snapshot of our time in light, language, music and movement. Sharp criticism of the current biggest-stick-carrying group on our little planet. Also a great multiplayer personal computer game with some flaws. Excellent screensaver and ambient music player. Useful for driving instruction.
Some GTA Online activities like my favorite "Get the most near misses in the next few minutes" Freeroam event are not available in closed sessions, which is a shame, but there are more than enough fun things to do, especially with malicious hackers absent.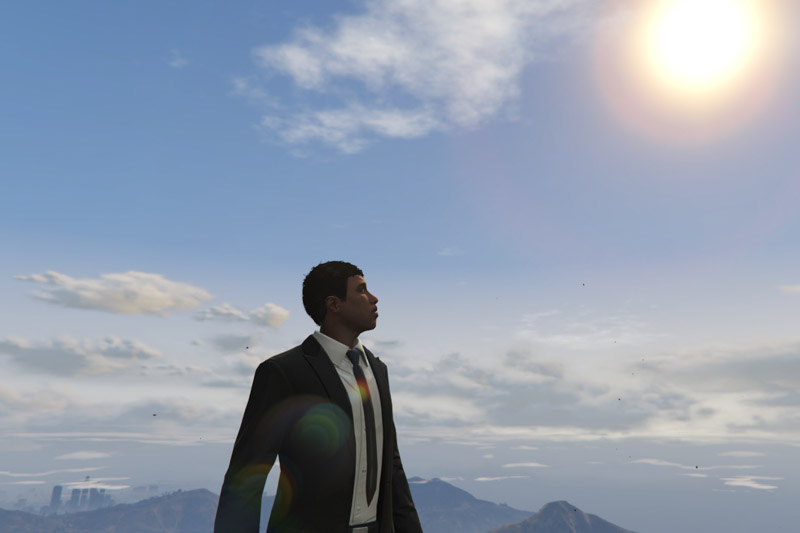 Without needing to worry about random players attacking me in Freemode sessions, I can also safely turn off the game interface including the mini-map that shows potential threats nearby, which lets me use the video game as a screensaver or digital landscape in which to hang out with nice people like you.
Um abraço!

           __|__
      -------O-------
          o´   `o
            
More articles in the archive and links in the linked list archive.