❦ First Published on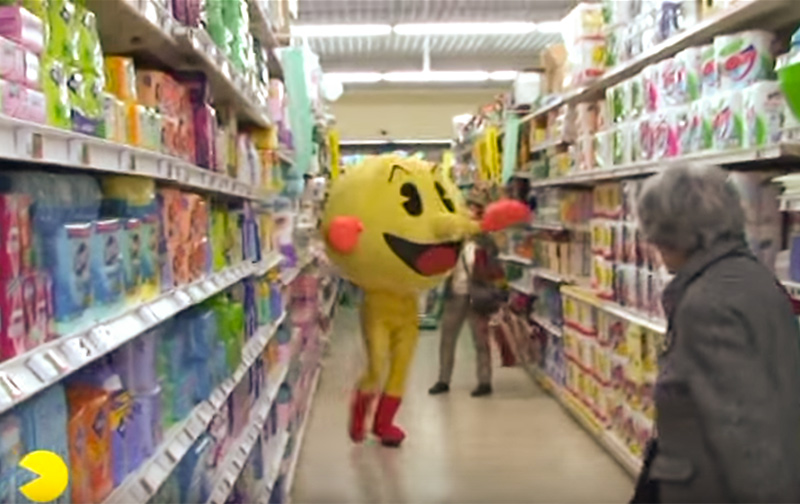 The internet tells me to write about Pac-Man today, but I went on a long walk away from my quarantine sector for the first time in a while, so: Thoughts on Pac-Man interspersed with observations about a New York City I have not seen much of in the past two months.
I first played Pac-Man on an Atari 2600 in 1982 or 1983. Pac-Man's maze never changed, only the speed of the game and the behavior of the ghosts did. This made it feel claustrophobic and I always preferred games with more freedom of movement like Defender or Rogue.
Walking on the west side of Manhattan in a line of green between two lines of gray with walkers, cyclists and the speeding cars I look up and see a thin young man jumping up and down then walking back and forth in a balcony, around 10 feet long, on the tenth floor of a building above the highway.
I remember thinking of Pac-Man when I ate a slice of pizza at Vinnie's, before this time. The place has signs that say T.Hanks with a picture of a young Tom Hanks on a trash bin and t-shirts that I think you can buy. A framed golden Zelda cartridge hangs on the wall, as does a picture of He-Man and Skeletor with their arms around each other, eating pizza and laughing.
I wonder whether Toru Iwatani was stoned when the idea for the video game came to him, or whether high-density concrete and high-technology are natural grounds for escapes from reality.
Many of the things we came looking for at the large grocery store were not there, but there were other things that were there that were not there before, like Impossible Burger patties in the vegetable isles. The man working on his knees, opening boxes, seemed genuinely pleased to to talk, as did the man in charge of the coffee, and the woman near the olive oil. The older woman working at the check-out seemed in a dream-state and had dark marks under her eyes and wild hair.
Not many people were riding the subway. Most had masks on, some very tight, others dangling around the neck. A nurse looked down at her phone, her eyes closed, her head fell. She woke up, and her eyes began to close again. Door between cars slammed open, a young man walked in. No mask. Angry. Spare change. Spare change, please. Help, please. Fucking Jesus is calling on my phone. This is your fault. This is your fault. Next car.
Crossing the road on Broadway a black corvette cut out of the lane with traffic stopped at the red light and sped up the opposite lane, going the wrong way. I opened my arms when he approached and the car slowed down on the crosswalk. The tinted window began to open but the driver hesitated and screeched up the wrong way on a small side street narrowly missing other people.
Maybe he had been driving for a long time and couldn't find a place to park.
We can play various versions of Pac-Man on the Internet Archive, but when I think about Pac-Man the first thing that comes to mind is not the game, but the Rémi Gaillard video.
Prior entry: See More Sunrises With Free Civilization
Next entry: Étude in D-sharp minor, Op. 8, No. 12